Youth coming to the fore; ratings August 9th
Russell Degnan
2nd Test
West Indies
v
India
Pre-rating
831.8
1185.3
Form
-35.1
+58.7
Expected Margin
India by 127 runs
Actual Margin
Match drawn
Post-rating
835.5
1181.4
A match that for two days looked like the easiest of Indian victories turned, first on rain with only 62 overs across days 3 and 4, and then on the bats of four twenty-four year-olds. Jermaine Blackwood (63 off 54), Roston Chase (137* off 269), Shane Dowrich (74 off 114) and Jason Holder (64* off 99) batted the length of day five, regained the lead, and achieved an unlikely draw. The top-order failed, as did the bowling - notwithstanding Chase's 5/121 - and Blackwood's 64 in the first innings (also faster than a run-a-ball) was the only score of note in another collapse to Ashwin. But a draw is a draw, and if the middle to lower order has something about it, then that means they only need a top-order and some front-line seamers to be something like a competitive side.
India will probably not worry too much. Rahul (158) and Rahane (108) scored runs, and on most other days they'd have won with some time to spare. They lose a handful of ratings points, but not enough to drop into third, and in any case, they still gained points on Australia. West Indies slightly arrest their drop, though as ever, they remain marooned between seventh and ninth.
3rd Test
England
v
Pakistan
Pre-rating
1145.1
1140.4
Form
+24.7
-7.6
Expected Margin
England by 52 runs
Actual Margin
England by 141 runs
Post-rating
1155.0
1131.6
In the post-mortem on Pakistan's failure to firstly win, and then at least draw this match, the scale of England's comeback has been largely obscured. On the first two days minus one ball, they lost 10/297 and conceded 2/257. In the remainder of the match they took 18/354 and scored 6/400. Yet, despite the score differential, it wasn't a storming comeback. Rather, a series of rearguards that eventually allowed them the opportunity to win.
Ballance (70) and Moeen Ali (63) getting the total to something reasonable from 5/158; Woakes (3/79) and to a lesser extent, Broad keeping the Pakistan lead to 103, and more importantly, forcing them to grind at less than three runs per over, when tiredness ought to have set in; Cook and Hales overturning the deficit without loss; Root and Vince building a lead when early wickets might have derailed the comeback. Then from a front-running position, Bairstow and Moeen Ali accelerating, and Finn and Anderson breaching the top-order when there was little happening.
Pakistan, by contrast, got 152 runs from Sami Aslam and 177 from Azhar Ali (more than half their total), and 7 wickets from Sohail Khan (almost half). The other players have produced in this series, but it is England's ability to find something from someone that is making them a difficult opponent. They push back to third place with the win, and have the momentum to find themselves higher by series end.
2nd Test
Sri Lanka
v
Australia


Pre-rating
941.5
1230.4
Form
-22.5
+22.6
Expected Margin
Australia by 94 runs
Actual Margin
Sri Lanka by 106 runs
Post-rating
952.0
1220.0
As with any cricket contest, there are really two matches being played: that between Sri Lanka's batsmen and Australia's bowlers, and that between Australia's batsmen and Sri Lanka's bowlers. The first, Australia won, Starc took 11/94, Sri Lanka were bowled out for 518 across two innings - substantially less than a team ought to have if they want to win - with only Mendis (86), Mathews (54 and 47) and Perera (49 and 64) contributing. The weaknesses they displayed in England are still evident, but the emergence of Mendis and the promise of de Silva (37 and 34) are good signs in a rebuilding team.
Nevertheless, if you'd offered that chase to Australia before the Test match they'd have taken it, and at home, it would likely have resulted in an innings victory, not a demoralising 229 run loss.
Because Australia's batsmen, in Asia, are incredibly, historically, poor. It is worth dwelling on some ratings numbers to indicate how bad they've been in their eight consecutive losses in Asia. Firstly, this is the worst Australian side in Asia of any era, with an opposition adjusted game rating of 594.1, well below the performance of the 1980-83 era (813.1) or the WSC team that proceeded it (895.0).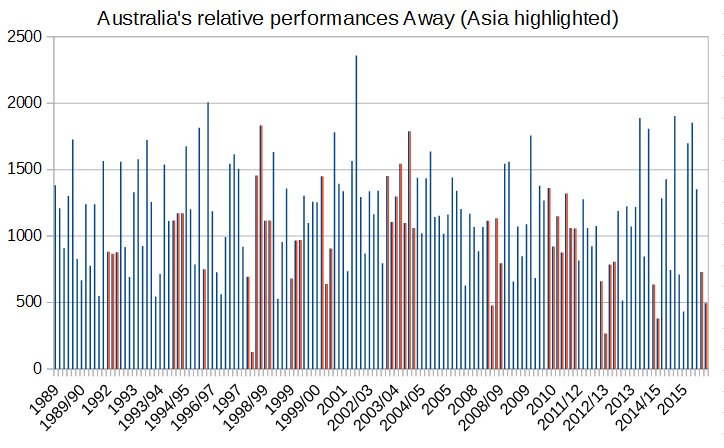 Yet, at home, this is one of the best Australian sides, also ever, below only the post-war sides of the 1920s and 1940/50s and the great side of recent memory:

This disparity, traditionally 200 points or 100 runs, is currently 754 points or 377 runs. A staggering number. Australia, in Asian conditions, is the worst Test side in world cricket bar Zimbabwe, and it is arguable that Afghanistan's triple-headed spin attack would produce an intriguingly close contest.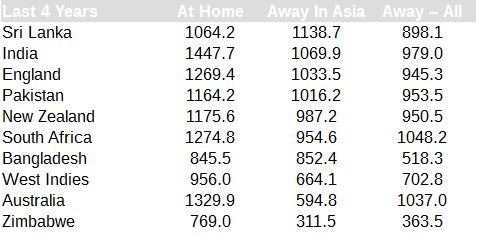 Sri Lanka have bowled well, but they've bowled as a side that knows that they can take wickets as long as they bowl tight lines and work the batsmen over. Warner and Marsh have scored some runs, but given the impression they need to hit ever half offering for four, as the end is nigh, Smith looks comfortable but finds ways to get out, Voges regressed into reverse sweeps where previously he looked safe if shot-less, while Burns and Khawaja haven't got in for long enough to judge. Lehmann was a find player of spin bowling, but whatever he is advising his charges isn't translating onto the pitch. As with previous tours to Asia, their confidence is shot, and the chance of a redemptive result is negligible. Unfortunately, there is another tour to India looming, and nothing we see over the Australian summer will prepare them to face it.
Rankings at 9th August 2016
1.
Australia
1204.6
2.
India
1181.4
3.
England
1155.0
4.
Pakistan
1131.6
5.
South Africa
1121.5
6.
New Zealand
1028.4
7.
Sri Lanka
967.6
8.
West Indies
835.5
11.
Bangladesh
613.3
12.
Zimbabwe
546.0

---

9.
Ireland
637.1
10.
Afghanistan
622.9
13.
Scotland
408.0
14.
Namibia
306.5
15.
Kenya
276.4
16.
U.A.E.
221.0
17.
Papua New Guinea
228.1
18.
Hong Kong
183.6
19.
Netherlands
179.0
20.
Canada
147.9
Shaded teams have played fewer than 2 games per season. Non-test team ratings are not comparable to test ratings as they don`t play each other.

Cricket - Ratings - Test 10th August, 2016 11:44:15 [#]
Comments